---
DAY 1
FLIGHT TO ITALY
Board your overnight flight to the Eternal city of Rome.
---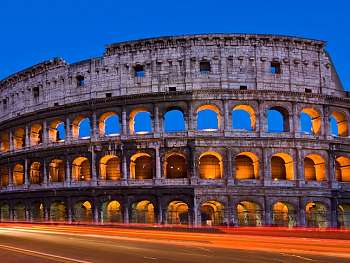 DAY 2
BENVENUTI A TUTTI! WELCOME TO BELLA ROMA!
On arrival at Leonardo da Vinci-Fiumicino airport you will be warmly greeted by your English speaking tour representative who will escort you to your hotel. Check in begins at 200 PM. Depending on your arrival time, you may have some time to familiarize yourself with some of its highlights. Don't forget to take your camera. This evening dine at one of the local Kosher restaurants. (Dinner) Buona Notte!
---
DAY 3
ROME
After a sumptuous buffet breakfast visit the Vatican Museums, one of the cornerstones of Rome. After a special Jewish reading in the Sistine Chapel take a few minutes to loo for the seven Hebrew prophets in Michelangelo's ceiling frescoes. Following lunch on your own in a local restaurant visit one of the best, yet least known attractions in the city, the walled and crowded Ghetto of Rome. Moving along we arrive at the ornate and massive Tempio Maggiore di Roma, the principal synagogue of Rome, one of the largest synagogues in Europe built between 1901 and 1904. Beneath the Great Synagogue is the Museo Hebraic di Roma, the Jewish Museum of Rome, host to several exhibits highlighting the connection between the Jewish people and Rome. Their history is depicted in its magnificent collection of silverware and precious textiles from all over Europe, marble carvings that once decorated the Cinque Scole, the five synagogues of the Ghetto demolished in the 19th century as well as miniature parchments. Our day ends with dinner in a Kosher restaurant in the ghetto area. (Breakfast & Dinner)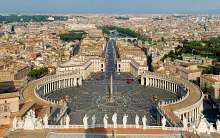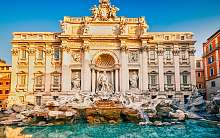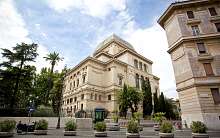 ---
DAY 4
ROME DAY AT LEISURE
After breakfast, a day at leisure for everyone. time to do some great shopping and explore the city on your own.
Dinner at a local restaurant for the group. Overnight Rome.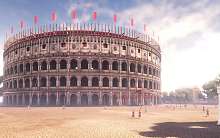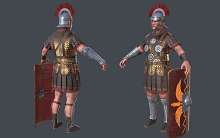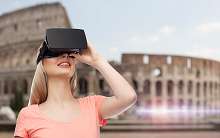 ---
DAY 5
ROME | OSTIA | DAY OF BAR-BAT MITZVAH
TODAY IS YOUR BAR - BAT MITZVAH DAY. Venturing from Rome we head to Ostia Antica to be joined by our local tour guide and archaeologist. The Ostia Synagogue is an ancient synagogue located in ancient Ostia Antica, the seaport of Imperial Rome. It is one of the oldest synagogues in the world, the oldest synagogue in Europe and the oldest mainstream Jewish synagogue yet uncovered outside Israel. The synagogue building dates from the reign of Claudius (41-54 AD) and continued in use as a synagogue into the 5th century AD.

For Bar / Bat Mitzvah families and guest here we will participate in a Bar / Bat Mitzvah ceremony in the ruins of the oldest synagogue known in Europe.
Let your imagination take you back over 2000 years to a time when Ostia Antica was a lively and thriving commercial center. As you wander the ruins peeking at the remains of arcades, baths, mansions and warehouses, you will get an idea of what Roman lifestyles was like then. By entering the time machine see how civilizations advanced, how everyday life was well-organized and why this city is still amongst the best preserved in the world. Then spend a few minutes trying to guess what was for sale in the shops behind each 2nd century mosaic sign. Lunch on your own in a local restaurant. Wearing Samsung Gear Virtual Reality glasses uncover the history and culture of Ancient Rome experiencing the Colosseum like never before. Relive the history of the ancient world while a multilingual narrative voice coupled with epic background music brings it all to life. See the Roman Forum, the marketplace of ancient Rome and the nearby Palatine Hill, the centremost of the Seven Hills of Rome.
Then transfer to the restaurant for our Bne'i Mitzvah party. Overnight (Breakfast & Dinner)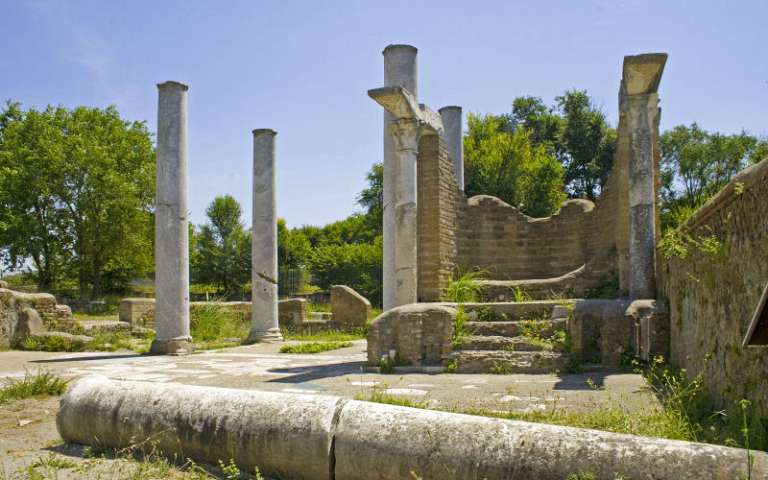 ---
DAY 6
ROME | BOLOGNA | PARMA | MODENA | BOLOGNA
Morning transfer to the Rome Railway Station to board the fast train to Bologna (about 2h30). On arrival a private coach transfer to Parma (famous for its Parmesan cheese). Lunch on your own.
In the afternoon a local guide joins us as we visit the Synagogue, Comunita' Ebraica Di Parma and the Biblioteca Palatina, home to the largest collection of Hebrew Manuscripts in Italy. Although the community is small today, it is active. Proceed to Modena on the south side of the Po Valley to see the recently restored emancipation Synagogue opened in 1873, the remains of the Jewish Ghetto and the Este Library housing important Jewish manuscripts. Arrive back in Bologna for dinner and overnight. (Breakfast & Dinner)
---
DAY 7
FERRARI MUSEUM AND FACTORY
Our day starts with a morning lecture by Prof. Mauro Perani, one of the most important experts in Jewish studies in Italy followed by lunch on your own in a typical trattoria. Mangiare!.
This afternoon its back to Modena to explore the Ferrari Museum and the Fiorano test track. This unique experience retells the story of one of the most prestigious automobile houses in Italy and showcases some of the most beautiful cars ever built. See the collection of race trophies, photographs and multimedia displays. Admire many of Ferrari's most iconic cars throughout its history including the single seater that won Ferrari its first world championship in 1951 and Formula 1 car driven by retired former German racing driver Michael Schumacher.
Now to test your skills - a car simulator has been designed and engineered to let users experience driving on the Monza track and to step inside the reconstruction of an impressive pit stop. Although the Ferrari factory is not open to the public (unless you own a Ferrari), visitors can spend some time in the Ferrari Store purchasing official merchandise. Return to the hotel. Dinner and overnight in Bologna. (Breakfast & Dinner)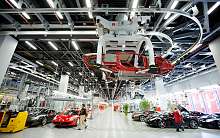 ---
DAY 8
FERRARA | PADUA | VENICE | THE GELATO EXPERIENCE
A private coach takes us to the Carpigiani Museum, a Gelato museum, the only one of its kind in the word where we will learn about the history of artisan gelato. The "smaller explorers" have time to create their own ice cream masterpieces according to ancient recipes as members of the Maestro Gelato University. Parents learn the basic techniques of ice cream production and test their skills on how to make it at home!
Follow the production of modern ice cream with tasting! Since this is a group activity, children must be accompanied by a parent. Continuing north-northeast this afternoon we come to Ferrara located in the Emilia-Romagna region, known as a City of Renaissance defined by the d'Este dynasty. Our day ends in Venice, the city of canals. A water taxi transfers us to our hotel. Dinner and overnight in Venice. (Breakfast & Dinner)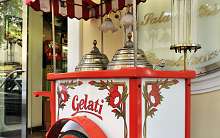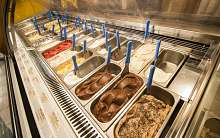 ---
DAY 9
EXPLORE VENICE BY A GAME
After a delicious buffet breakfast we set off on a guided tour of the Jewish Ghetto featuring the Jewish Museum, Museo Ebraico di Venezia. Situated in the Campo of the Ghetto Novo between the two oldest Venetian synagogues, this little but very rich museum was founded in 1953 by the Jewish Community of Venice and showcases important examples of goldsmith and textile manufacture made between the 16th and the 19th centuries, ancient books and manuscripts and some objects used in the most important moments of the cycle of civil and religious life. Enjoy lunch.
The best way to explore Venice is to play a family game through the streets of the historic center discovering hidden gems, amazing monuments, breathtaking sites and interesting secrets. Led by a local assistant acting as the hunt master, you will be asked questions, provided with clues and hints and finally awarded a prize. Phones are used only to take pictures. The hunt is based on building a team, having some fun together and seeing the highlights of the city. Taking a minimum of 3 hours, the winning team receives a Venetian prize! Enjoy dinner this evening at a Kosher restaurant. Overnight Venice. (Breakfast Lunch & Dinner)
NOTE - Kids below 18 must be accompanied by adults.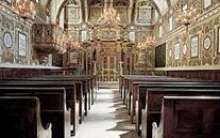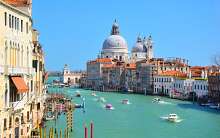 ---
DAY 10
VENICE | CONEGLIANO | TRIESTE
Board a private water-taxi to the parking lot where our bus is waiting for the drive to historic Conegliano, the birthplace of the Italian Renaissance painter Giambattista Cima (XV sec.) who painted mostly religious subjects. Located close to the Treviso Alps, a small but very important Jewish Community was established in ancient times. See the synagogue rebuilt with furniture transported to 25 Hillel Street in Jerusalem in 1954 and operates today serving the Italian Jewish community.
Enjoy lunch in a typical farmhouse in the Conegliano hills area before continuing to beautiful Trieste "Gateway to Zion", home to Europe's largest synagogue. Our local expert guide will join us for a guided tour of the historic city center. Afterwards enjoy an aperitif at Caffè San Marco a rendezvous for writers and intellectuals frequented by the Irish novelist James Joyce. Dinner and overnight in Trieste. (Breakfast & Dinner)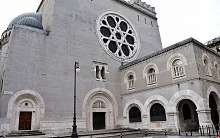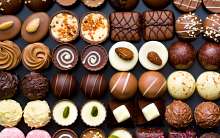 ---
DAY 11
LA BONBON TRIESTE | EXPERIENCE OF THE BOMBONIERA
A morning tour of Jewish Trieste takes us to the ghetto area where some of the buildings from the two Jewish ghettos survived and have been restored. See the Monumental Synagogue, the Jewish Museum and the Carlo and Vera Wagner Museum opened in 1993 as a museum to showcase objects of the community.
Now for something special. There are many ways to prepare "Merenda" the snack of peasants and workers. La Bomboniera, the last Liberty pastry shop has remained intact for over a century in Trieste. Its austere showcases are adorned by bonbon, fondant and confetti as originally prepared in the nineteenth-century amidst putizze (dried fruit, chocolate and nut spiral cake), presnitz (puff pastry filled with dried fruit, nuts and spices), pinze (a traditional desert flan) and homemade chocolate eggs.
Taste the Rigó Jancsi, a traditional Hungarian cube-shaped chocolate sponge cake and chocolate cream pastry at the Bomboniera, where this authentic Austro-Hungarian pastry has been made since 1850. Founded by the Hungarian Eppinger family, all desserts are cooked strictly in the original wood-burning oven dating back to 1850. It is the only pastry shop in Trieste to use this method). Enjoy lunch on your own at a restaurant in the center of the city.
Afternoon visit the 19th century Miramare Castle on the Gulf of Trieste. Built for the Austrian Archduke Ferdinand Maximilian and his wife Charlotte of Belgium, visitors can view their private chambers featuring the original furnishings.
Return to Trieste stopping at one of the renowned Gelaterie such as "Jazzin" Gelateria to taste this wonderful ice cream. Dinner this evening in a restaurant with its amazing view of the Gulf of Trieste. Overnight in Trieste. (Breakfast & Farewell dinner)
---
DAY 12
TRIESTE | DEPARTURE
For those members of the tour departing early this morning, a transfer to the airport will be provided..
For those leaving later today, you have a chance to enjoy a free day in Trieste on your own. Check out from the hotel is between 11am - 12pm. Luggage can be stored with the bell boy until departure. Please ensure that you return to the hotel for your transfer in time for your flight. (Breakfast)
Arrivederci Bellisima Italia!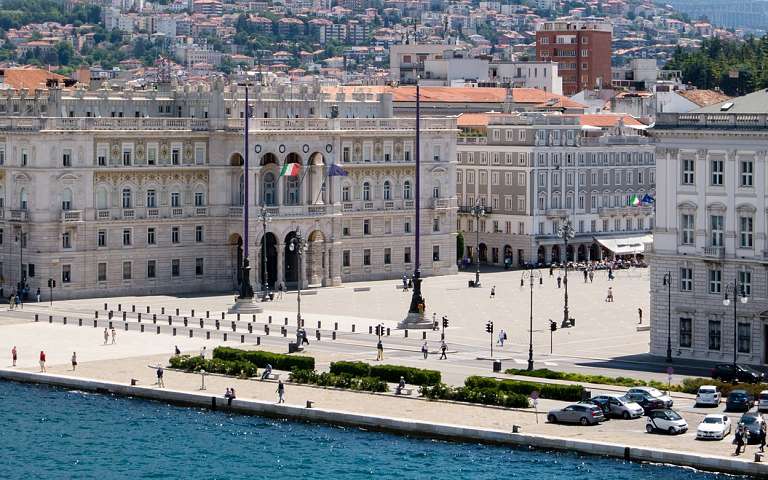 ---
Choose your preferred dates and book your trip today
BOOK NOW
Dates & Rates
Based on a minimum of 15 passengers
Click on Independent tour option below for rates of min 4 - 9 people traveling
Independent Tour Option Available
No Dates available
* All prices in USD
Independent Dates & Rates
Based on a minimum of 15 passengers
Click on Independent tour option below for rates of min 4 - 9 people traveling
---
Inclusions
---
Meal included
Breakfast | Lunch some days | Dinner

LUGGAGE RULES
Rules for luggage transportation on Motor Coaches
In cases when the Motor Coach is completely full at its maximum capacity
we highly suggest bringing only 2 pieces of luggage, one big (55cm x 40cm x 20 cm; 22"x 18" x 8")
and other small (backpack or a small carry-on bag). This is to avoid inconveniences
of space in the motor coach. In cases of big groups and when this rule is not observed we might be forced to rent a truck for the exceeded luggage that will mean Extra Charges in the final price of this quotation.
ENTRANCES FEE
All mentioned Entrances are included
VERY IMPORTANT when it comes to students, the proposal includes the reduced ticket for students. in this case, our Tour Manager, must receive, on the arrival day of the group, the photocopies of all passports, including the Teachers. Without these photocopies we can not get the tickets students rates, and we will be obliged to invoice you the extra charge

INCREASE OF COSTS
Any increase of costs, independent from our will, like: VAT, Museums Entrance, Local Tax, Coach Tax to the City Center, will be communicated to you and charged in equal measure
NOT INCLUDED
Return airfare and departure taxes
Rabbi services and ceremony - call for details*
Any meals not mentioned on the tour
Tips to guide and driver
PROGRAM
Day 2 - ROME
Coach transfer + Orientation Tour
Rome Coach Tax
Welcome Aperitif at the Hotel
Kosher Dinner in local restaurant
BB Hotel 4 stars like Palatino
Day 3 - ROME
Car/Minivan/Bus at disposal for the daily services
Rome Coach Tax
3 Hours City Guide (Vatican)
Entrance fee Vatican Museums
3 Hours City Guide (Ghetto)
Entrance fee Synagogue
Kosher Dinner in Rome restaurant
BB Hotel 4 stars like Palatino
Day 4 - ROME
Day at Leisure
Day 5 - ROME
Car/Minivan/Bus at disposal for the daily services
Rome Coach Tax
For the Bar-Bat Mitzvah Family, morning dedicated to the Bar-Bat Mitzvah
For the regular Family, morning at disposal
Pm - Treasure hunt in the historical centre
Dinner in local restaurant
BB Hotel 4 stars like Palatino
Day 6 - ROME - BOLOGNA - PARMA - MODENA - BOLOGNA
Car/Minivan/Bus Transfer to Rome railway Station to the Hotel
Fast Train Roma/Bologna in 1st Class
Car/Minivan/Bus at disposal for the daily services in Bologna area
FD Guide at Disposal
Entrance fee Palatina Library Parma
Dinner in local restaurant in Bologna
BB Hotel 4 stars like Stahotel Excelsior
Day 7 - BOLOGNA
Lecture with Prof. Mauro Perani
3 Hours City Guide in Bologna
Entrance fee Jewish Museum in Bologna
Entrance fee Museo Civico Medievale
Dinner in local restaurant in Bologna
BB Hotel 4 stars like Stahotel Excelsior
Day 8 - BOLOGNA - FERRARA - PADOVA - VENICE
Car/Minivan/Bus at disposal for the daily services
Venice Coach tax
2,5 Hours City guide in Ferrara
Entrance fee to the new National Jewish Museum in Ferrara
Lunch in local restaurant in Ferrara
2,5 Hours City Guide in Padua
Assistance for the transfer in Venice (From 2 to 7 people)
Private Boat Transfer from the Hotel in Venice to the Parking
Dinner in restaurant near the Hotel
BB Hotel 4 stars like Giorgione
Day 9 - VENICE
2 Hours City Guide Jewish Ghetto
Entrance fee Jewish Museum
Lunch in local restaurant
Private RT Boat Transfer to Lido of Venice
Entrance fee Jewish cemetery
Guide for the Jewish cemetery
2 Hours City Guide Venice Historical Centre
Entrance fee Doge's Palace + Basilica of St. Mark's
Dinner in Kosher restaurant
BB Hotel 4 stars like Giorgione
Day 10 - VENICE - CONEGLIANO - TRIESTE
Private Boat Transfer to the Coach Parking
Assistance for the transfer (From 2 to 7 people)
Car/Minivan/Bus at disposal for the daily services
Venice Coach Tax
am2 Hours City Guide in Conegliano
Lunch in a Farmhouse Conegliano area
pm3 Hours City Guide in Trieste
Dinner in Hotel or nearby restaurant
BB Hotel 4 Stars like Continental
Day 11 - TRIESTE
3 Hours City Guide in Trieste
Entrance fee Jewish Museum
Merenda by Pastry Store La Bomboniera
Car/Minivan/Bus RT Transfer to Miramare Castle
Guide for a visit to Miramare Castle
Entrance fee Miramare Castle
Farewell dinner restaurant sea view in Triest
BB Hotel 4 Stars like Continental
Day 12 - TRIESTE - DEPARTURE
Car/Minivan/Bus transfer to Trieste or Venice Airport